The Suburbs Never Looked So Appealing to New Yorkers
Crossing the GWB to Bergen County always seemed like a huge "leap of faith" to most New Yorkers. Now with COVID-19, many New Yorkers are packing their apartments and heading to the burbs to escape the pandemic ? some are actively looking to make this move permanent.
New Yorkers who were considering moving to the suburbs before to enjoy larger homes and yards, find that the appeal of the suburbs has increased even further with the effects of the pandemic.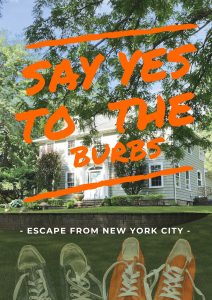 Being locked up in small spaces in the city is catastrophic and petrifying for families in urban areas, they want out of the city and many want out NOW.
While the real estate market isn?t exactly lively these days, and most buyers are delaying purchases, for some the pandemic became the deciding factor to move out!
With job uncertainty, low-interest rates, and low inventory, savvy buyers are making the move now securing low mortgage payments, before they will have to face more competition when the market opens up again.
The prospects of an exodus are the talk of many realtors, and in fact, this may be a possibility. While the immediate effects of the pandemic may cause residents to temporarily move out, it is yet to be seen if this will be a permanent phenomenon.
After 9/11, some predicted the city would see a population decline caused by fears of terrorism. Instead, the population grew as the city demonstrated its ability to keep residents safe. What is different now is that combating the virus is not a one-time event but may require repeated lockdowns, which itself could make people want to move out to the suburbs.