Real Estate to most is about Location, Location Location. Here in Tenafly and nearby Demarest though, of equal importance is Education.
While we encourage our kids to pursue an excellent education as the best investment in their future and a stimulant to help them learn about the world around them, it pays additional dividends by helping maintain our home values at their highest levels.
School districts are one of the main considerations for families when choosing a community to live in.
Niche recently released a new ranking for the best school districts for 2020. The ranking of almost 11,000 public school districts in the nation is based on rigorous analysis of academic and student life data from the US Department of Education along with test scores, college data, and ratings collected from millions of Niche users. Two local townships reached the top echelon of the ranking coming in the top 1% in the nation.
Tenafly School District
ranks #49 out of 10,782 for best School District in the nation, #5 out of 243 for best school districts in New Jersey, #11 of 377 for the Safest School Districts in New Jersey.
Tenafly High School
Ranks #129 of 19,134 High Schools in the nation, #15 out of 411 in New Jersey, #29 out of 997 in the New York City Area and, #3 out of 50 in Bergen County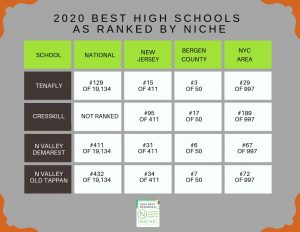 Below is Niche.com?s ranking of New Jersey's top 25 districts:
1. Princeton (No. 17 overall)
2. Millburn Township (No. 20 overall)
3. Livingston Board of Education (No. 30 overall)
4. Summit (No. 48 overall)
5. Tenafly (No. 49 overall)
6. Northern Valley Regional (No. 55 overall)
7. Mountain Lakes (No. 71 overall)
8. Bernards Township (No. 83 overall)
9. Haddonfield (No. 87 overall)
10. Montgomery Township (No. 94 overall)
11. West Windsor-Plainsboro Regional
12. Hopewell Valley Regional
13. South Brunswick
14. Westfield
15. Hillsborough Township
16. Ridgewood
17. Fair Lawn
18. Moorestown Township
19. Mahwah Township
20. West Morris Regional
21. Holmdel Township
22. Bridgewater-Raritan Regional
23. Cranford
24. New Providence
25. East Brunswick
If you are considering moving to Bergen County, Tenafly, Closter, Cresskill, Demarest, Haworth or other community nearby contact us at 201.341.4765