Purchase of the $33,000 synthetic ice rink was approved on Tuesday night by the Tenafly council. The 64-by-28-foot rink is to be delivered and installed, by end of February.
the rink will be shipped from KwikRink Synthetic Ice, a company based in Minnesota. It will take two to three weeks to arrive in Tenafly, then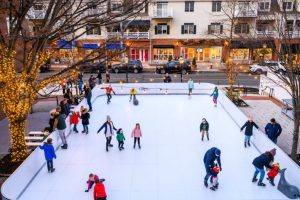 two days to assemble. Synthetic ice is made of a material that mimics real ice but can be used in all temperatures. It comes in interlocking panels.
Initially, the rink will be placed on one of the basketball courts near the corner of Riveredge Road and Tenafly Road, then will be moved to different locations around town during the year.
The rink will be operated from 3 to 8 p.m. on weekdays with one-hour blocks and be open to residents only. Ski rentals will run $15-$20. In compliance with COVID19 social-distancing requirements no more than 20 people will be allowed in the rink.
This is a great addition to Tenafly's outdoor leisure time especially, as it can be operated year-round